Skip Navigation
Website Accessibility
2023-2024 Judy Niemeyer Classes with Lucille Amos, Certified Judy Niemeyer Instructor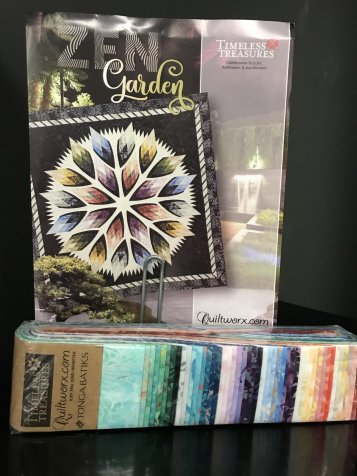 Zen Garden

Lucille Amos, our Judy Neimeyer Certified Instructor, is back with Zen Garden!!
This beautiful foundation paper pieced treasure uses a strip set we special ordered just for this class. The central medallion practically sparkles like a gemstone. It has subtle hues and a fancy but subdued presentation that will have you relaxing in no time when you wrap yourself up into these dramatic colors.
PLEASE NOTE: Each class meeting will cost $75. There are three total classes, so the total cost of instruction will be $225.
Register for Class
Labyrinth
The Labyrinth pattern is a perfect introduction to how to paper piece! Come join Lucille Amos, our wonderful and fantastic Judy Neimeyer Certified Instructor in this quilt! This is a one-day opportunity for you to learn how to Paper Piece!
This pattern can use a 10" Layer Cake, so there is minimal cutting and preparation prior to class!

Cost of Class: $75
Register Online for Labyrinth
Lotus Flower
Join Lucille Amos, Certified Judy Niemeyer Instructor, for Lotus Flower!
The Lotus Flower layout includes foundation papers to make (4) 16″ blocks, which creates one flower. The pattern was designed by Judy and Bradley Niemeyer and creates an introductory pattern that can be completed in just a few hours and used to learn basic paper piecing techniques that can be applied to many of Judy Neimeyer patterns and projects!

This is a one day class that we know you will love!!


Cost of Class: $75
Register Online for Lotus Flower
Desert Sky
Judy Niemeyer quilts are lovely to look at, and intricate to your eye. The truth is: YOU CAN MAKE ONE, TOO! They may look hard, but the paper piecing technique makes it achievable with precision and without too much headache.
This quilt is perfect to learn how Judy's Patterns create lovely intricate designs. You will learn to paper piece, if you don't know already, or want to practice your new-found skills with something a little more complicated than the Labyrinth quilt.

Lucille Amos is our trusted source of Judy Niemeyer quilting, and our Certified Judy Niemeyer Instructor. She will make sure you can get through this quilt.

You will need to find 24 total fat quarters: 12 light and 12 dark of your preferred colors, plus your background.

Cost of Class: $75
Register Online for Desert Sky
Seasonal Table Runner
Bradley and Judy Niemeyer designed the layout and foundation pieces for the paper pieced pattern, Seasonal Table Runner in 2006 to teach a popular technique for creating a circling geese unit. Join Calla Lily Quilts and Lucille Amos, our Judy Niemeyer Certified Instructor, in making this lovely unit! Use our newest Christmas 2022 fabric or go for something in the earth tens for a stunning Thanksgiving Table Decor!!

Cost of Class: $75
Register Online for Seasonal Table Runner